Belmor Park Golf & Country Club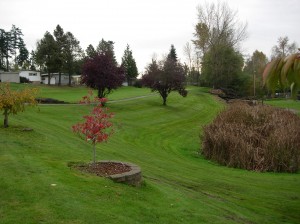 Belmor Park Golf & Country Club was opened in the late 1960s as a "design for gracious mobile living." Now about 45 years later, Belmor continues its mission of maintaining a quality manufactured-home, retirement community with a vibrant lifestyle for active adults 55+.
With so many ways to explore new interests while appreciating old favorites, it's simple to find your own type of lifestyle. Here you don't have to settle on anything, except what you want to do today.
Visit our Activities pages to see detailed information about the wonderful, extensive amenities and activities surrounding your home at Belmor Golf & Country Club.
Belmor Park has many amenities for its residents to enjoy and to participate in, such as:
Clubhouse
With a well-equipped kitchen and large ballroom area, Belmor's Clubhouse is capable of seating approximately 150 people, and is used for scrumptious monthly dinners, family events, club meetings, fundraisers and more.

Golf Course
Our cozy 9-hole, par-3 golf course is right out your back door, woven in and out of the entire park. For residents only and it's free!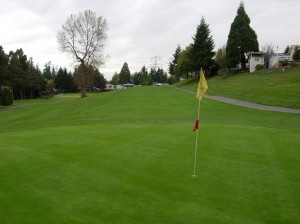 Indoor Swimming Pool & Spa
Indoor pool is enjoyed by our residents for water aerobics class or swimming with friends.
Sauna
A roomy dry sauna – located in each of the men's and women's locker rooms – offers a great escape to relieve sore muscles, increase circulation and reduce stress.

Library
Residents donate books to their expansive library, as well as maintain its organization. Another great benefit is King County Library System's "Library2Go!" A Traveling Library Center (TLC) visits Belmor on a monthly basis with carts full of large print books, movies (DVD and VHS), audiobooks and music in order to create a library right where you live.
Craft Room
Great space to make your next beautiful creation, whether it be greeting cards, flower arrangements, or ceramics (yes, we have a kiln!).
Exercise Room
With a variety of exercise equipment you can maintain your healthy regime and make friends!
Social Groups
All residents are encouraged to participate in as many of Belmor's clubs and groups as they wish. All resident groups, clubs and events are published monthly their newsletter, the "Banner."
Crafters
The Crafters meet once a week to work on projects such as centerpieces for Club House dinners and other wonderful examples of handiwork.
Ceramics
For those interested in creating something special from clay are invited to attend the Ceramics group which has their own kiln.
Sandwich Mission
Once a month a group of concerned residents meet in the Club House to form a production line to make as many sandwiches as possible to donate to Seattle's homeless. A lot of work is required from shopping for the ingredients to cooking and making the sandwich fixings to making and wrapping the final product.
Morning Exercise
Exercise with dumb bells, stretch to yoga – wake up with this group each morning and begin your day with renewed energy!
Bingo
This one of the few events that is open to the public twice a month.  Bring your friends, play a few games of Bingo and hopefully win a prize!
Coffee & Donuts
Residents are invited to meet once a month to enjoy a hot cup of coffee with a fresh sweet donut and catch up with one another.
Yak-n-Yarn
A group of ladies meet once a month to have a very yummy potluck and organize fundraisers.
Dazzling Dames
You've heard of the Red Hat Society, right?  Well, this is Belmor Park's Red Hatters – the Dazzling Dames! Upholding the RHS's mission of Fun, Friendship, Freedom, Fulfillment and Fitness, our Dames support one another as well as their community.
Pinochle
Some serious card players get together each Monday and Friday to play many games of Pinochle.
Bible Study
For those interested in learning and discussing the writings of the bible, you can meet with other residents each Monday evening.
Spite & Malice
A fun card game enjoyed by the residents who meet in Belmor's cozy game room.
Mexican Train
A fun-filled domino game that is sure to make you laugh! This group meets every Thursday.
Canasta
Another fun card game that meets on a regular basis in Belmor's game room.
Foot Care
For a small charge, you can visit the craft room to have your feet professionally cared for, as well as a manicure for an additional charge.
Phi Beta Psi
The purpose of Phi Beta Psi is to participate in charitable work, to promote fraternal relationship among its members and to establish and assist other chapters of Phi Beta Psi. Belmor's chapter focuses its charitable work in raising money for cancer research.
Joseph's Pantry
Assists those who are unable to do their own shopping. If you like to play Bridge, Pinochle, Bunko, Bingo, or Mexican Train, this is the place for you! Many of the community events are hosted in the spacious main clubhouse hall which includes a large, well equipped kitchen and dining area.
Within walking distance is a vast array of shopping and services including the Commons Mall, Metro Park and Ride, as well as specialty restaurants such as Red Lobster, Outback, Azteca, Black Angus, Applebee's and many more.
Included in your lot rent is basic cable television which includes about 40 channels, weekly garbage pick-up and recycling.
Visit our Activities page to see more information about the activities surrounding your home at Belmor Golf & Country Club.