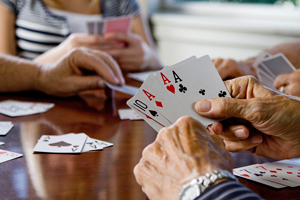 Activities
Calendar and events
Belmor Park has a vibrant social culture that includes many clubs and events. The following are a few examples:
Bingo – open to the public and occurs twice per month.

Community Club Dinner – residents enjoy a sumptuous dinner organized and prepared by their own neighbors.
Sandwich Mission – resident volunteers meet once a month to make as many sandwiches as possible to donate to Seattle's homeless.
Coffee & Donuts – residents are invited to meet once a month to enjoy a hot cup of coffee with a fresh sweet donut and catch up with one another.
Banner Newsletter – residents are in charge of writing, printing and distributing their own community newsletter on a monthly basis.
Dazzling Dames – you've heard of the Red Hat Society, right? Well, this is Belmor Park's Red Hatters – the Dazzling Dames! Upholding the RHS's mission of Fun, Friendship, Freedom, Fulfillment and Fitness, our Dames support one another as well as their community.
Visit our Amenities page to see more social activities.